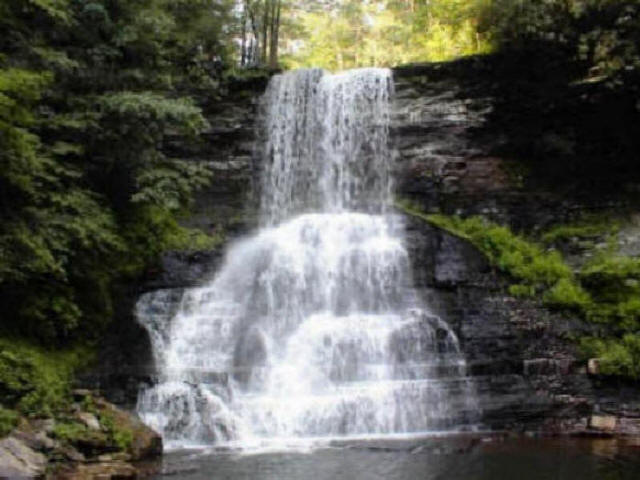 Home
About Pembroke
Pembroke is a town with a population of about 1,128 according to the 2010 census. Even though small there is lots of fun activities and events that take place. Pembroke is known as the Gateway to the Cascades. The Cascades is a naturally occurring waterfall that is in Pembroke. It is approximately a 2 mile hike up to the falls and approximately 2 miles back down totaling 4 in all. There is not a trail for off road vehicles that is open to public so please do come prepared with your best tennis shoes and be well rested because it one of those moments in life you just have to take advantage of.
While this town has the Cascades there is also the New River and fun outdoors things that are constantly being ran within the area. Such as nature walks, tubing, kayaking, canoeing, and many on the river adventures. Even fishing. The town has an outdoors company that runs canoe and kayak rentals. The outdoors company is known as Tangent Outdoors. The company is highly recommended for on the river fun.
Pembroke also is known for the Mountain Lake Lodge and if you haven't been to Pembroke before you will certain recognize this area if you have seen the movie Dirty Dancing. The movie was filmed here in 1897. Even though that was quite a few years ago we still very much look the same and we are proud of that. Mountain Lake Lodge has a lot to offer cabin rentals, hotel rentals, Treetop Adventures,  and really just a getaway in the mountains to collect some fresh air.
But along side the outdoors things we bring we also do fun things for our community such as a festival once a year that takes place in either September or November known as the Heritage Festival. It's one time of the year when the whole community comes out to enjoy some town fun in vendors, food, games, and some other fun things. Pembroke just all around tries to have a little fun. We try to do a little thing every December for the kids and that is our Christmas Parade all sorts of companies, churches, dance studios and all sorts of people in the area get involved. Pembroke tries to show the children that community is like family. And coming in the year of 2018 we hope to be starting a new tradition throughout the town known as Mayor's Time on the Town where we will constantly have an event taking place every month sponsored by different businesses within the community.
For other fun facts on Pembroke use this link http://www.snidow.org/mill.htm
OR           Virginia is for Lovers   http://www.virginia.org/Cities/Pembroke/     
Contact information:
Town of Pembroke, 500 Snidow Street, Pembroke, Va. 24136  
Telephone: 540-626-7191   Fax: 540-626-5523  
Office Hours: Monday – Friday 9:00 a.m. to 5:00 p.m. (excluding holidays)
Also visit the Giles County website www.gilescounty.org
Hazardous Mitigation Information will be found at this link http://nrvrc.org/hazardmitigation/